We want to thank everyone that came to visit us at OPEN HOUSE this past Saturday. It was VERY busy, but VERY pleasant!! We'll plan for a big turnout again next year~
The weather has inspired me to toss the Pumpkins in the compost, clean the house from top to bottom and DECORATE!!
Keeping it simple with Twigs, Berries & Cones from outdoors. Just a touch here and there does the trick. This is also the time for Filling the House w/ Yummy Smells! Besides candles, I like to Melt tarts on the woodstove and spray my rooms with Holiday Scents.
I've finished making Apple Pomanders to display in my old bowls and started stringing Cinnamon sticks for the Christmas tree garland. (popcorn garland doesn't last very long w/ our lab Scooby)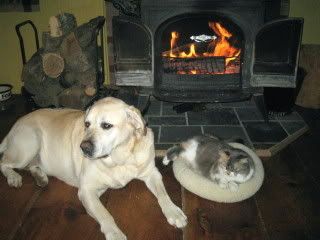 HAPPY HOLIDAY'S EVERYONE!