My, How the Garden has Grown!!
Here's some pics of the vegetable garden.
Don't ya just Love Summer :)
Here's a shot of one of the Watermelons sitting on the stone wall~
The Pumpkin vines are making their way thru all the flowers~
We're thrilled with all the Cantelopes this year!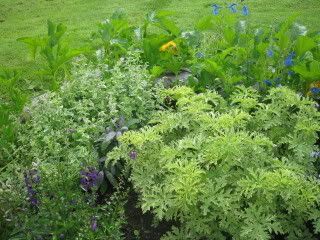 The Herbs are thriving as well~ I've been cutting this Scented Geranium for bouquets in the House~ It smells Wonderful :)