Well, I planted a few flats of Snapdragons this year but couldn't bring myself to cutting them~ They looked so good in the garden that I just kept putting it off until there were only a few blooms left on the stems, and by then they were hardly worth drying...
The Statice & Globe Amaranth on the other hand have been a Beautiful Show and a HUGE drying SUCCESS! I really enjoy heading out of the house every morning with my large harvest basket to see what's ready to gather. What a way to start your day :) So far the crop of pastel colored Statice and Red Globe Amaranth is ready. The darker colored Statice should be ready in a few weeks. Here's what's available to purchase at present~
~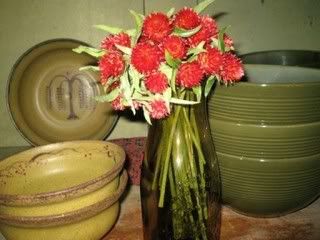 FREE package of Lavender Seeds when you purchase our Primitive Flower Pots (regular size or chunky size) This offer is good while supplies last~ GREAT GIFT!!!