Here's some NEW Items at the Crow's Nest~
My new Sudzy Bath Bags are made w/ Crushed Organic Soap, Organic Lavender buds & Calendula Flowers. Not only do the Herbs smell WONDERFUL, but the Muslin bag acts like a washcloth and the pieces of Organic Soap mixed in "does the job" I LOVE these!!
Just let the bag hang to dry in the shower/tub after each use.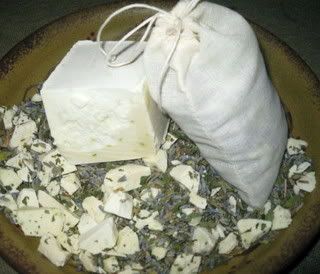 Once all the soap is gone, discard the remaining herbs, wash and dry the bag and then re-use the empty muslin bag. I like to fill the clean bags w/ more dried herbs and stuff them between the cushions of my furniture. Great Air-Fresheners!! Another good idea for the clean/empty muslin bag is to fill it w/ our Herbal "Moth Chaser" mixture and hang in the closet or tuck away in your dresser. (I'll be posing the Herbal Moth Chaser soon)
I just received a shipment of new Linen Hand towels. 2 designs available~ stitched Crow & stitched BumbleBee
Check them out in the "Curtains & Things" section.