CATALOGS are Finally Ready to Mail!! Between everything else, I've been working on a print catalog for my retail and wholesale customers and I'm finally finished~ Phew! Of course I've already come up with new products that need to be added to them~ but for me that's to be expected :)
~NEW PRODUCTS~
Cottage Garden Primitive Soap: Made with my Organic Flowers & Herbs plus Essential oils of Rose Geranium & Lavender. I've also attached a rusty Watering Can. Too cute!
Plus I've created "Primitive HOME" melting tarts and Country Cupboard Melting Tarts. My candles have been very popular in these scents so I thought I'd offer Tarts too~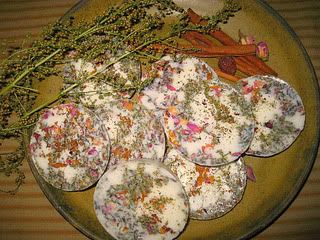 These are All really Fun to Make!
I'm also participating in "Out of the Box Sampler" May Sample Box, if anyone is interested just check out their website www.outoftheboxsampler.com
The Crow's Nest also has an updated Logo! I've been busy working with Deb at Deb's Lost Treasures to create this logo and I'm very pleased!
My offerings have changed and "grown" over the past few years and I felt it was time to reflect that in my logo. Besides creating Prim, grubby, spicy items I enjoy working with beeswax, organic flowers & herbs too, and I feel it should reflect in my logo as well:)
Thanks for all the Positive Feedback!!