Whew! It's been a VERY busy past few months! As you can see I've created a New Website. It's been A LOT of hard work, but I'm please with the outcome so far. The shopping cart is much "smoother" and the entire website navigation makes it a pleasant shopping experience :) I'm really happy about the Wholesale access section~ Much easier than the old "paper catalog" updating, mailing etc...
I've also been Inspired to create some new "Prim Herbal" items~ as I call them. To me "Primitive" not only means Old and Grubby it also means Natural. Using Organic Herbs, Spices, Beeswax, Pure Essential Oils to create my primitive products bring out the Simple Beauty that inspired me in the first place :)
Herbal Pantry Cakes, Ginger-Spice Cakes, Sweet Annie Cakes are some of the New creations I've been busy with.
"Everything Has Its Place" is my motto at Home. That translates to "I can't stand Clutter!" That's why I've created these Prim Beeswax Jars. Great Storage~ Prim Herbal look. Keep them on your desk, or in the Laundry room for all that pocket change. Possibilities are endless :)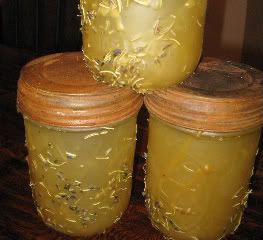 Another New item is the Locally made Lavender Heating Pad. For years we've sold these Heating pads in our Herb Shop and I thought it would be a good idea to offer them thru the Crow's Nest as well. I had the removable/washable covers made w/ "primitive" fabric. These Heating Pads are GREAT! Just pop the Heating Pad in the microwave for 2 to 3 minutes and it will stay warm for over 30 minutes.
I've used these Heating Pads on my family for years. For the kids earaches, tummy aches or just to keep them warm if they weren't feeling well. (that's why the removable/washable cover is so important)